It's no secret that we love adrenaline here at Geronigo. We're constantly looking for the next big adventure. We've traveled high and low across the country to find the best experiences, which got us thinking – where in the UK has the highest concentration of adrenaline junkies?

So we decided to analyse over 1 million activity bookings at nearly 2000 activity locations to find out the adrenaline ratio.

You might be surprised to hear that the top of the list is Woking, which is home to the highest concentration of adrenaline-seekers in the UK, with an adrenaline ratio of 5.2. This means 1 in 5.2 residents have taken part in an extreme activity at some point, so with a total population of 105,367 that equates to 20,232 adrenaline junkies living in Woking alone!
The UK's Capitals of Adrenaline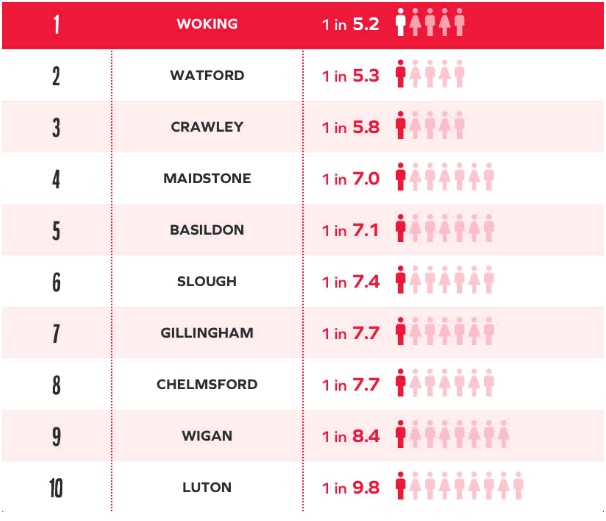 Interestingly, there were two main areas where the top adrenaline hubs were located, one being the Greater London area, and the other being the Northwest of England. Quad biking tended to be much more popular in the north of the country, with more southerners favouring laser tag.

We love that as many as 1 in 5 people are taking part in adrenaline-fuelled activities, particularly in this digital age. There is often a perception that more and more people are living life indoors and online, but clearly a large chunk of the population are keen to get out and about, sharing exciting experiences with their friends and family.

The UK's Top 5 Adrenaline activities
We also looked at the top activities across the country. Paintball was by far the UK's most popular activity, featuring as the top activity of choice for 19 of the top 20 towns.

The UK's Top 5 Adrenaline activities are:
Paintball
Karting
Quad biking
Laser tag
Airsoft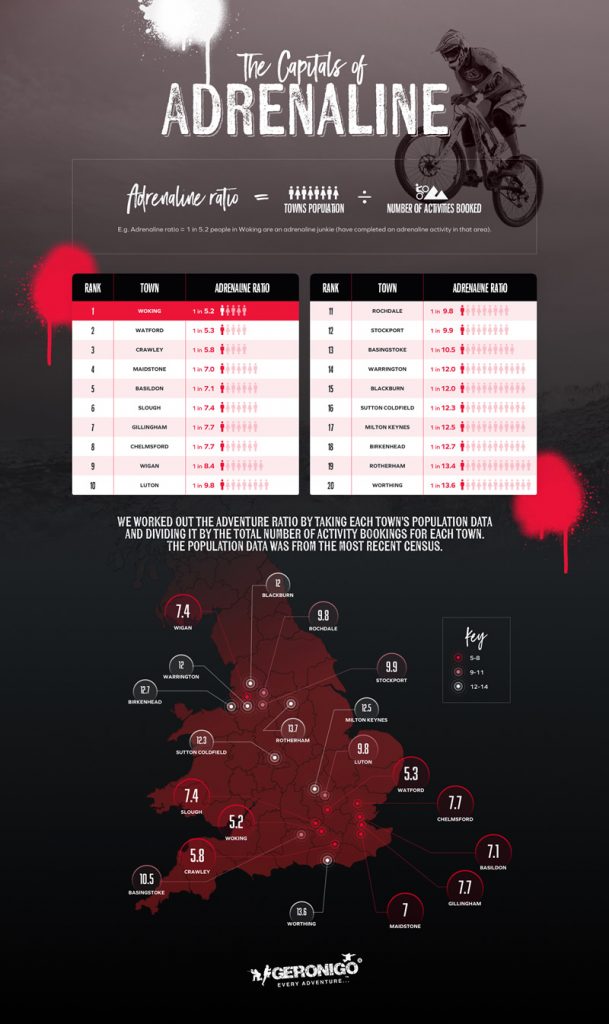 The full data set
Geronigo's research was conducted by analysing the data from over 1 million activity bookings at nearly 2000 locations around the UK. The adrenaline ratio was calculated by dividing each town's population (according to the most recent census) by the number of activity bookings for each town. This was also done on an activity-by-activity basis to identify the most popular activities for each town.

The full top 25 data set is available here:
| | | | | | | | | |
| --- | --- | --- | --- | --- | --- | --- | --- | --- |
| Rank | Town | Ratio | 1st | : | 2nd | : | 3rd | : |
| 1 | Woking | 5.2 | Paintball | 9.6 | Karting | 27.3 | Laser | 71.8 |
| 2 | Watford | 5.3 | Paintball | 10.7 | Karting | 21 | Laser | 87.1 |
| 3 | Crawley | 5.8 | Paintball | 12.6 | Quads | 41 | Karting | 43.5 |
| 4 | Maidstone | 7 | Paintball | 15.3 | Karting | 34.6 | Quads | 53.5 |
| 5 | Basildon | 7.1 | Paintball | 15.2 | Karting | 38.8 | Laser | 68 |
| 6 | Slough | 7.4 | Paintball | 13.2 | Karting | 28.3 | Laser | 105.4 |
| 7 | Gillingham | 7.7 | Paintball | 16.3 | Karting | 40.4 | Laser | 65.8 |
| 8 | Chelmsford | 7.7 | Paintball | 14.9 | Karting | 40 | Laser | 70.9 |
| 9 | Wigan | 8.4 | Karting | 21.6 | Paintball | 24.4 | Quads | 59 |
| 10 | Luton | 9.8 | Paintball | 17.7 | Karting | 42.7 | Quads | 120.2 |
| 11 | Rochdale | 9.8 | Paintball | 23.3 | Karting | 30.2 | Quads | 81.6 |
| 12 | Stockport | 9.9 | Paintball | 23.1 | Karting | 27.9 | Quads | 128 |
| 13 | Basingstoke | 10.5 | Paintball | 18.2 | Karting | 59.4 | Quads | 114.5 |
| 14 | Warrington | 12 | Paintball | 31.1 | Karting | 35.5 | Quads | 84.1 |
| 15 | Blackburn | 12 | Paintball | 25.4 | Karting | 48.5 | Quads | 80 |
| 16 | Sutton Coldfield | 12.3 | Paintball | 24.9 | Karting | 62.9 | Quads | 98.4 |
| 17 | Milton Keynes | 12.5 | Paintball | 21.2 | Karting | 61.2 | Quads | 150 |
| 18 | Birkenhead | 12.7 | Paintball | 34.7 | Karting | 42.3 | Quads | 72.6 |
| 19 | Rotherham | 13.4 | Paintball | 27.6 | Karting | 53.9 | Quads | 138.5 |
| 20 | Worthing | 13.6 | Paintball | 28.5 | Quads | 64 | Airsoft | 204 |
| 21 | Huddersfield | 13.7 | Paintball | 32.3 | Karting | 49.3 | Quads | 87.3 |
| 22 | Oxford | 14.1 | Karting | 14.1 | Paintball | 43.8 | Quads | 134.9 |
| 23 | Southend-on-Sea | 15.3 | Paintball | 15.3 | Laser | 117.4 | Quads | 132.1 |
| 24 | Croydon | 16 | Paintball | 16 | Karting | 76.9 | Quads | 202.3 |
| 25 | Bolton | 16.3 | Paintball | 16.3 | Karting | 74.1 | Quads | 90 |