Black Friday and Cyber Monday 2019 approaches and we are offering fantastic deals that will make your wallet smile and your gifts look super generous.

Black Friday falls on 29th November this year; it started as a US tradition and Black Friday always falls on the Friday after Thanksgiving, which is the last Thursday in November. Cyber Monday follows on the first Monday after Black Friday every year so this year Cyber Monday it's on 2nd December.
The two events were originally very different because bargain hunters would rush to the high streets on Black Friday, however, Cyber Monday was exclusively for online deals. All that has changed, and it is all for the better.
Black Friday deals are often online now so the two events have merged and some have rebranded the event as Black Friday Weekend with the same deals flowing from one date to the other.
Here at Geronigo®, we've gone for the latest tradition of a Black Friday Event, and are running our fantastic offer over the whole week right through to Cyber Monday. Put a note on your phone to remind you to jump online over the Black Friday Event and you can grab 25% off Geronigo Experience Vouchers**, which also include a free gift box and free delivery.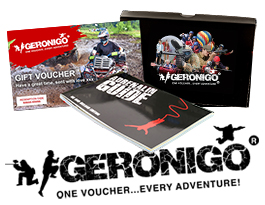 The Black Friday offer runs from the start of business on Monday 25th November and ends at close of business on Cyber Monday 2nd December.
To make it even more exciting, we are also offering 10% off all other branded gift vouchers** together with a free gift wallet and free delivery during the same period
** This deal does not apply to gift cards and monetary vouchers.
By CJ