There are many fast-paced adrenaline sports on four wheels and quad biking falls perfectly into that category. With quad biking all about skills and tactics and even more so about speed and adrenaline, there's nothing stopping you from being truly at one with your machine!
Quad bikes are great fun and can be very challenging at times. The chances are, you'll not really get out of second gear… but that's the whole point.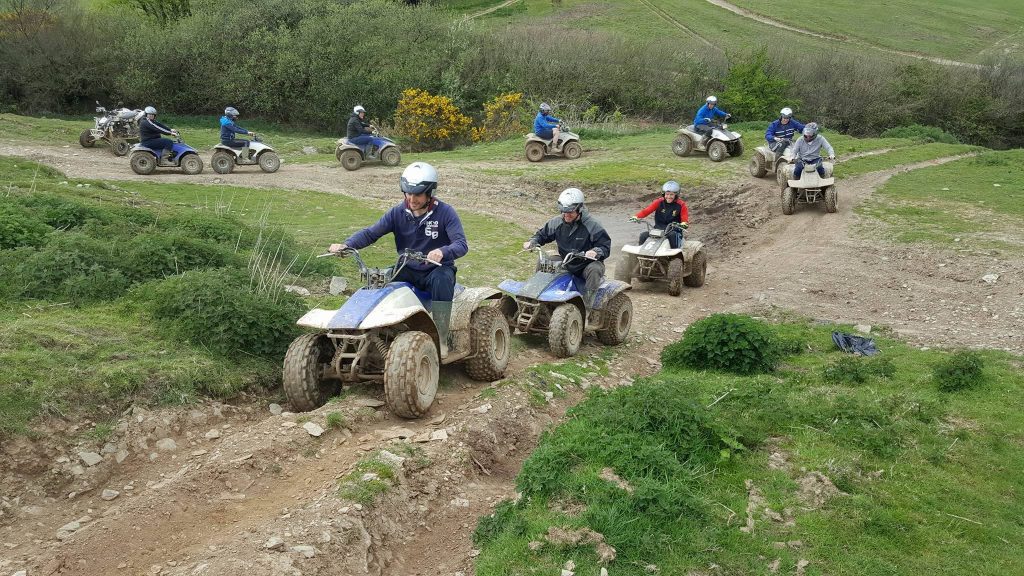 Like many of our activities, the misconception of adventure sports being just for the hardcore adrenalin junkie is just not true.
Quad biking appeals to both men and women, and the beauty of quad biking on our sites is that the sessions are completely tailored to the individual person or team.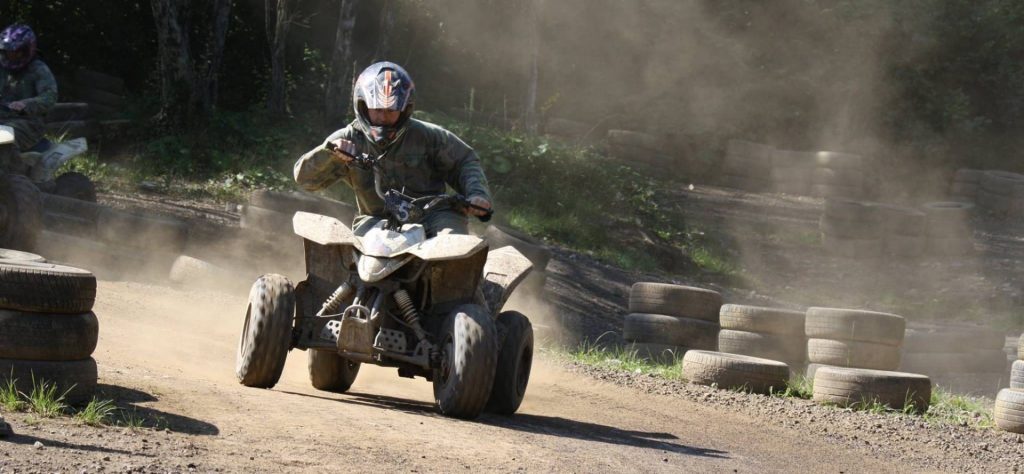 We have many groups who are more than happy to just ride around on the grassy test area for the majority of their session and that's enough for them. There are some cones to navigate, which is easier said than done when you're on a quad bike for the first time. Some people will show a thirst for more, so we'll move onto a more complicated course with a few more bumps and a bit more mud before we really are certain that you can handle the woods.
We make sure that quad biking is accessible for everyone, no matter how brave (or otherwise) you're feeling…
An introduction to quad biking sessions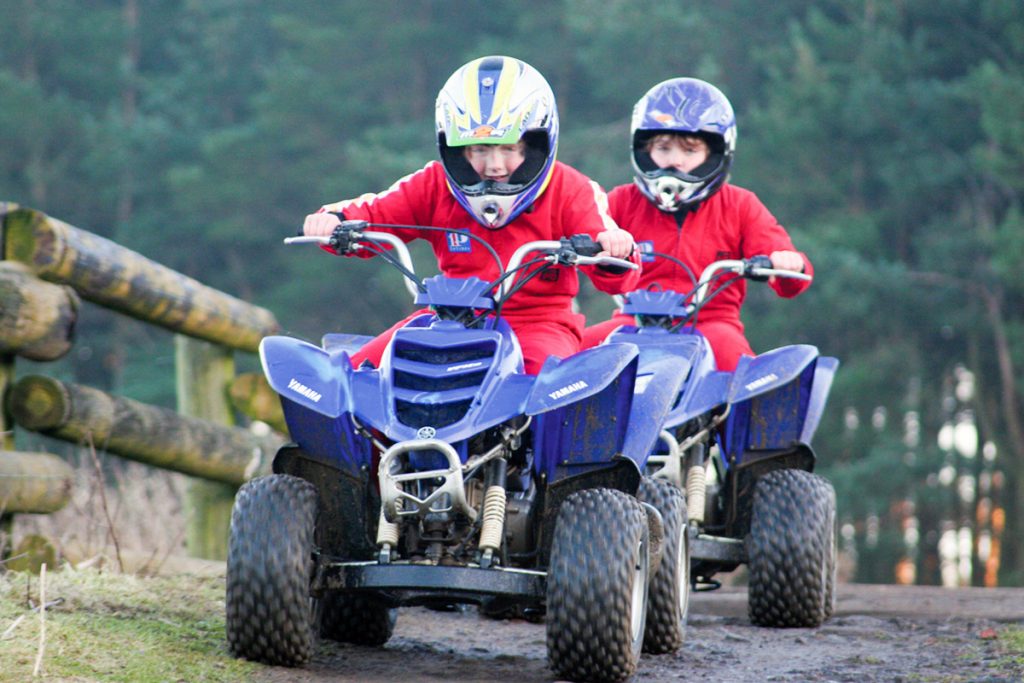 When you arrive you'll be given the normal briefing and safety talks. You'll be reminded that riding a completely open and very heavy machine deserves respect and understanding. Luckily, it's very easy to get into and you'll soon be at one with your beast.
First of all, you'll need some attractive gear to cruise through the mud in. By all means wear your own comfortable clothes and we'll kit you out in a helmet and gloves to protect your head, face and hands (mainly from the brambles and branches).
Next it's time to get to know your quad
All our quads are very capable machines offering electronic gear shifts (so there's no complicated clutch to worry about). They offer great suspension, a comfortable riding position, high-grip off-road tyres, and they're easy to control.
———————————————————————————-
How to ride a quad bike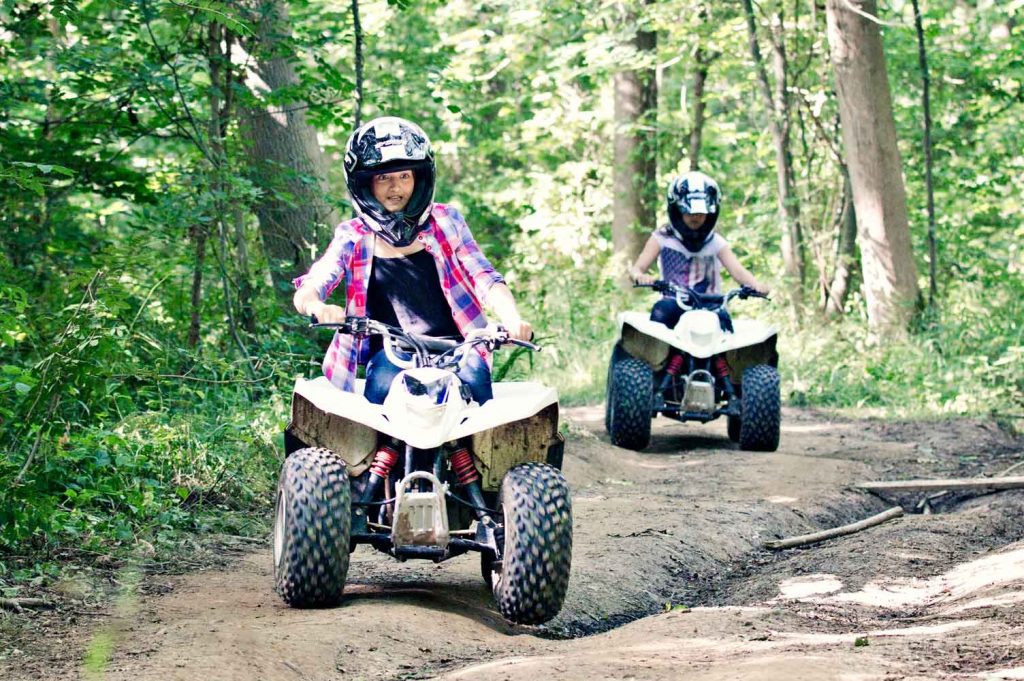 Are you sitting comfortably?
The seating position is important. Most quad bikes are rear wheel drive, so sitting upfront as close to the petrol tank as possible is essential if you don't like performing wheelies! Basically you need the petrol tank touching your crotch for maximum centre of gravity.
Get it in gear
The quads don't have a manual clutch, and the gears are simple to operate. The up and down electronic buttons on the left hand side of the handlebars are simple to use. Reverse (should you get stuck) can be found with a combination of brake lever and reverse button and then down on the gears. You'll spend most of your time in second gear as first gear is too vicious and tends to jolt the bike.
Accelerate your quad
The accelerator is a simple thumb lever on the right handlebar. The trick with a quad is to use a smooth motion and bring on the power gently – not jerking like a learner driver on their first day.
Stopping all the fun
To stop you need to use the brake levers. Pull both towards you and the quad bike will stop. The brakes are exactly the same as a push or motorbike and for most people are instinctively simple to use.
A word of warning on brakes: Once you've been through a few puddles and gathered up some mud, they won't perform anywhere near as well as they do on the simple test at the beginning. You won't really need to make any emergency stops but just make sure you don't tailgate your friend in front!
Move your body
In normal situations you can just stay seated and ride but when you hit some slopes and odd gradient you will need to move slightly to the side to counter balance your quad bike. Don't worry as again this is fairly instinctive – hopefully your own balance will come into play.
Don't stop moving – keep that momentum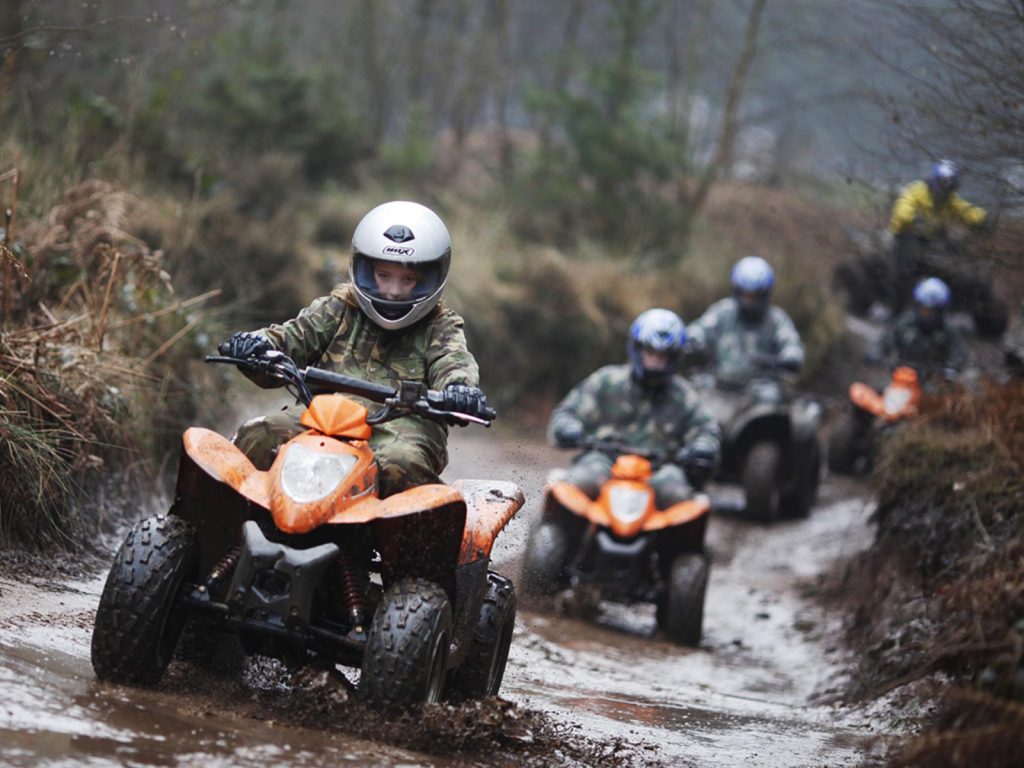 The courses are very bumpy with tree roots and potholes. When the rain comes it's very boggy and full of puddles and tramlines.
The important thing to remember is to keep your momentum going.
This doesn't mean going at it hell-for-leather but it does mean not letting off the throttle when you're in the thick of the mud and still moving.
———————————————————————————-
What to do if you get a quad bike stuck
Our instructors will be with you all the way around the course but getting out of trouble is fairly simple. Because our quads are only two-wheel drive you can get stuck, especially if you stop or lift off the throttle at the wrong moment.
Reverse gear is your best friend when you're stuck. If you get stuck reach for reverse and gently apply the throttle to try and pull yourself out of trouble. In the worst case scenario you may need a push but if you're with others then you'll have plenty of volunteers.
Some of the main reasons that you'll get stuck will be deep ruts in the ground or steep inclines. Try and find the dry route through the track and follow the instructor who will know the best way through.
If you get into a rut try and power your way through it and don't panic – the worst that will happen is you'll be wedged in and you'll be safe from everything but the pointing and laughter from your teammates.
With steep inclines it's all about selecting the best route up and applying the power once you're on the incline. Try to avoid racing towards the hill as this can go against you by banging the quad into the ground and unsettling the grip.
If you do get stuck on a hill or slope just apply the brakes to hold yourself and try to reverse back down the slope if it's safe to or wait for the instructor to work out the best plan.
———————————————————————————-
Who is best suited for quad biking?
People with lots of experience? Boys who like fast cars? Tractor drivers or farmers?
Well all of those… but also you too. It doesn't really matter what experience you have.
At Geronigo®, we cater to you and won't try and push you into anything you're not comfortable doing. This is meant to be fun, after all!
Quad biking is perfect for stag and hen parties as well as team building days. It's a new, exciting skill and usually one you'll all learn together. Getting stuck is all part of it and, although you'll get muddy, you'll have a great time doing so!
So what are you waiting for? Get a team together and let's get into the woods!
Book your session now or speak to one of our team about quad biking or any other of our fantastic activities on 01133 400206!