Have you decided to take the biggest leap of your life? One that will test every ounce of determination and courage? Then we reckon that you've decided to try bungee jumping, or bungy jumping as it is called in certain parts of the world. Here's what to expect.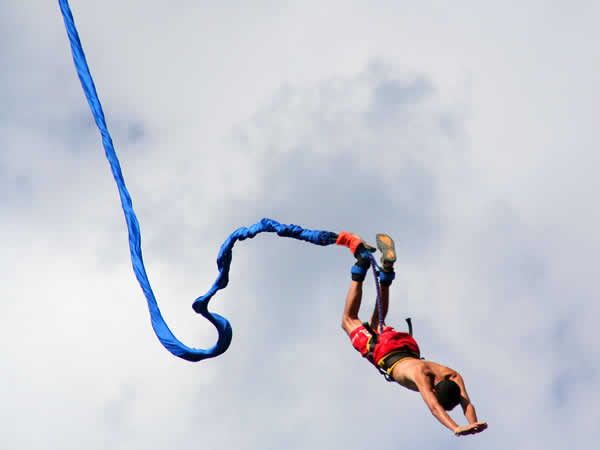 You Need to Book Before you Go
Jump on to the Geronigo® website and find your nearest bungee jump site. They have around 20 bungee jumping sites in the UK and Ireland so you'll find one within striking distance of your location. It's simple to do and it ensures that you actually get to bungee. Turning up on spec can put you at the end of a long queue, or facing a fully booked session.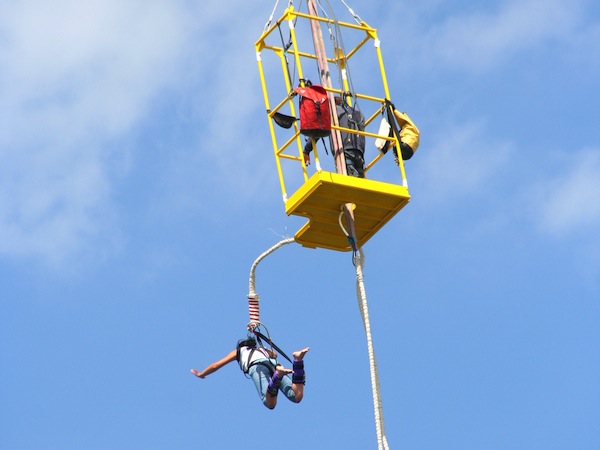 Each Jump is Different
For starters the jump distance can vary – many stick to 160ft, but you can get 300ft drops, but most find the 16oft drop more than enough, particularly for your first bungee jump. Then there is indoor and outdoor as a choice for your bungee jump. The outdoor option is exhilarating as you see the world rushing by you as the ground is rushing up to meet you – the full bungee adrenalin rush. But, indoor can be equally as exciting as music and lights can add to the experience.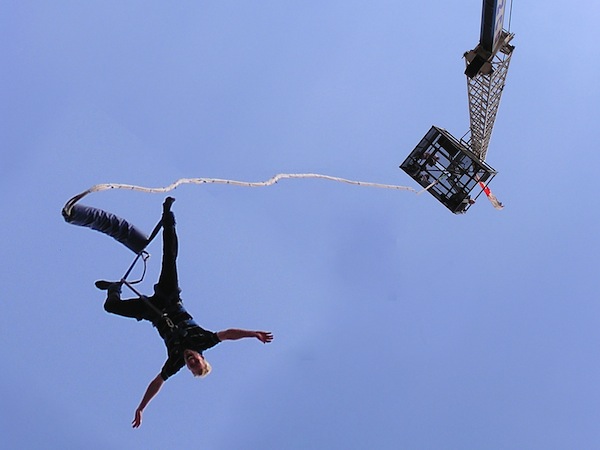 It's Just a Cord Round Your Ankles – Right?
No, all good operators of bungee jumps provide two body harnesses for ultimate safety, one on the ankles and a body harness, the better body harness being, in our opinion, the one that is fixed to the front of the body. There are two kinds of bungee cords used commercially; one is a factory produced braided shock cord, which consists of many latex strands enclosed in a tough cover, which gives a harder and sharper bounce. The other is the unbraided cord where the latex strands are exposed, this gives a longer and softer bounce.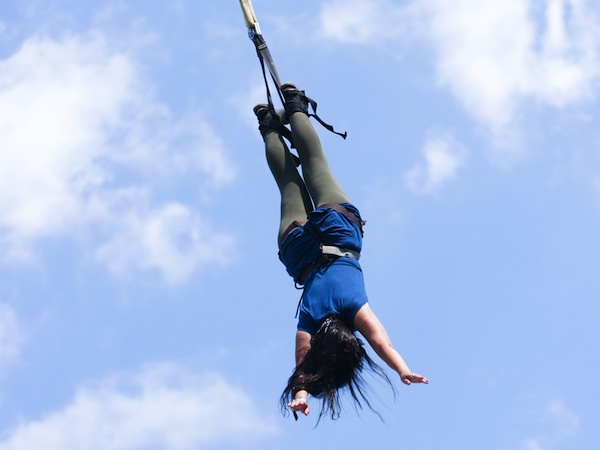 Can I Rely On My Booking Time ?
There is often a time delay due to high winds or if those in front of you take a long time to actually jump. These factors puts everyone a bit behind, so the operator has to play catch-up, but it is always worth the wait. Just make sure you don't hold people up when it is your turn, although a good operator won't rush you. Best not set you watch by the time booked or have somewhere else to go right after as you may be a bit late.
Do You Need Any Experience to Bungee?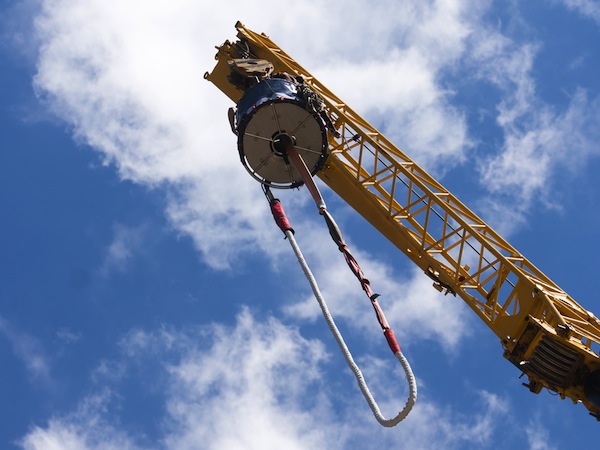 Nope, no experience and you get full instructions when you arrive and your instructor will make sure you fully understand what's involved. You do have to be at least 14years of age and have no major medical conditions such as heart problems, high blood pressure, back or neck problems or epilepsy. But, if none of those medical problems apply to you are good to go.
I'm a Bit Overweight. Can I Bungee?
There is an upper weight restriction of 120kg (18.09 stone), so if you exceed that weight then this is not the activity for you. There are sound reasons for the weight limit as the cords used have a maximum tension weight. Venues also have limitations set on their insurance so you would not be covered if you exceed their stated weight restrictions.
Is it Dangerous?
Providing you book through a reputable company like Geronigo®, who ensure that their operators are registered and insured, then you should be fine. However, please note that if you suffer from any of the the conditions above or are more than recommended maximum weight, then you should not take part in this activity. You may also experience a bit of tenderness on the ankles and leg due to the initial yank once the bungee cord has reached its max stretch after your jump. Again, reputable operators that follow proper procedures, which will reduce or even avoid this.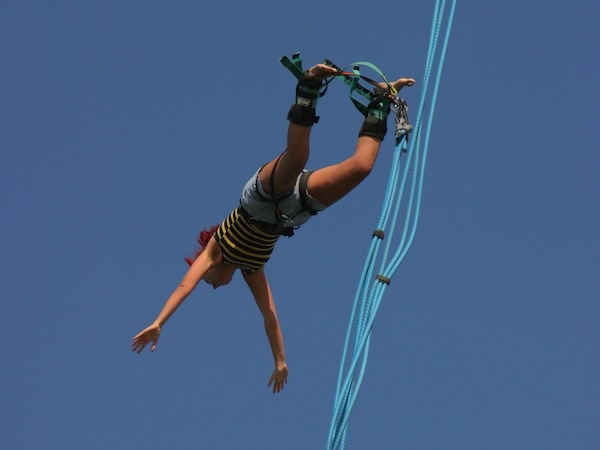 A Little Bit of History
The first modern bungee jumps were made on 1 April 1979 from the 250-foot (76 m) Clifton Suspension Bridge in Bristol, UK by David Kirke, and Simon Keeling, members of the Oxford University Dangerous Sports Club, and Geoff Tabin, a professional climber who tied the ropes for the jump. The activity then made its way to New Zealand where it was renamed Bungy.
By CJ