In white-water rafting, participants guide and paddle a raft through whitewater, or a river's rapids. Every site offers different challenges and grades of difficulty. There are so many great rivers and white water centres in the UK and Ireland that we would say white water rafting in the UK and Ireland has it all, including Olympic level white water parks, dam fed waterways and wild rivers where you can enjoy stunning scenery and share the water with the local wildlife.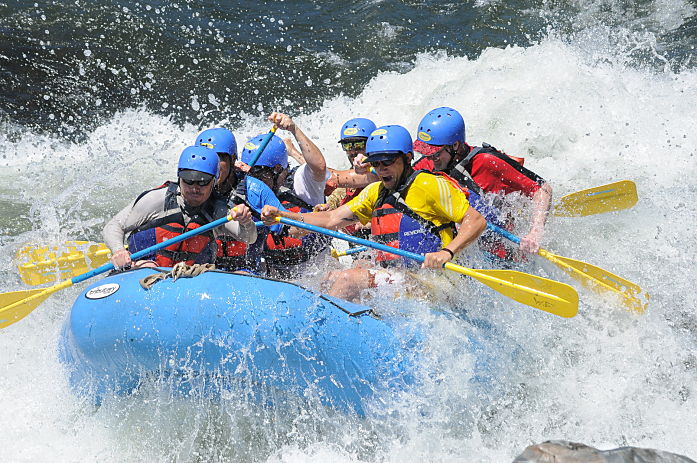 There are grades of difficulty for White Water Rafting on the International Grading System, but use these only as a guide as some of the easiest grades can prove more difficult in certain circumstances, particularly if you just rock-up to any river you find and take your chances.
Grade 1 – 2
Moving water, unobstructed and without technical difficulties. There may be small waves and riffles to challenge the paddler. Most rivers are grade 1 to 2 with the grade 2 elements delivering small waves and and stoppers and other minor obstructions to avoid. Eddies and cushion waves may be strong in certain areas. An example would be our Middlesborough site.
Grade 3 – 4
Waves, stoppers and technical difficulties are more severe. There may be drops and powerful constrictions. The main distinguishing factor of Grade 3 water is that the paddler will have to follow a recognisable route to avoid obstacles and hazards. Whereas in a grade 4 river, you can expect severe waves, drops, stoppers and other obstructions, pool-drop rapids to those with extended continuous rapids; so there is a huge variation in difficulty. An example would be our North Wales river in Bala
Scotland also has many rivers that fall into this category.
Grade 5+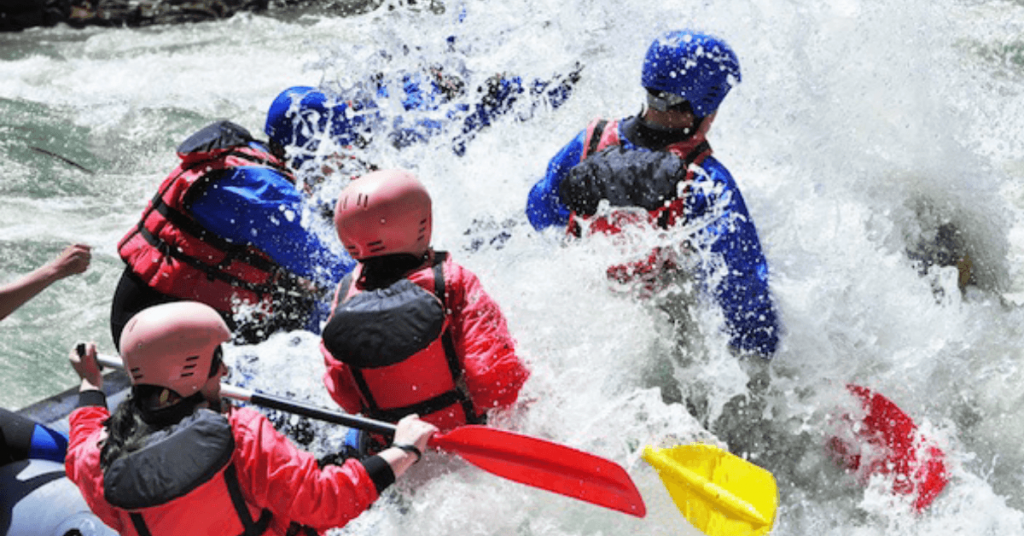 These are extremely difficult rapids with precise and technically demanding routes to be followed. Stoppers, currents and waves will be powerful and would only be suitable for experienced rafters. These water powerhouse can be found in Wales and Scotland.
Man-made sites don't have the wilderness or the mystery and the excitement of the unknown on a natural river, but they allow year-round white water rafting in the UK and Ireland and give a predictable water flow, all the equipment, supervision and rescue services. Not to mention the fact than some sites have lovely hot showers and hot drinks after you get out of the raft dripping wet and probably a bit chilly. These site are also a perfect place to learn how to raft. There are several centres in the UK . One of these is Nottingham and another is in Middlesborough.
It's worth noting that rivers on the UK's East Coast require more technical expertise than those on the West Coast, and have a greater number of boulders and rocks to navigate. West Coast rivers tend to have higher water volume and steeper descents.
So, now you know the type of challenges you will face, you'll need to know what to expect when you arrive at your chosen site.
What is the Raft Like?
You will be in a self-bailing 'paddle raft', which takes four to eight people. They are quick in the water and are suitable for any grade of river. You are never a passenger because everyone is expected to paddle while a guide, positioned at the rear of the boat, shouts out instructions, which you must follow.
Before you Set Off
Your guide will make sure you know how to paddle and will instruct you on ways to stay safe on the river. Your white water rafting experience can last anything from two to four hours. Check the package you book. Before you set off, you will be required to sign a release form and listen to a safety talk before heading to your boat. Floatation jackets are provided, as are helmets – you are required to wear both.
Out on the Water
Once your group is on-board and afloat, your guide will instruct you on basic paddling techniques and give you a little time to practice before heading out on the river. While no one expects you to be an expert, you need to need to learn the basic moves, such as the forward stroke, stern draw, and the forward and reverse sweeps. The forward stroke allows you and your fellow rafters to pilot the raft by going faster or slower than the river current. Rafters on both sides of the boat need to develop a steady and synchronised rhythm, because if one side are stronger than the other you will simply go round in circles.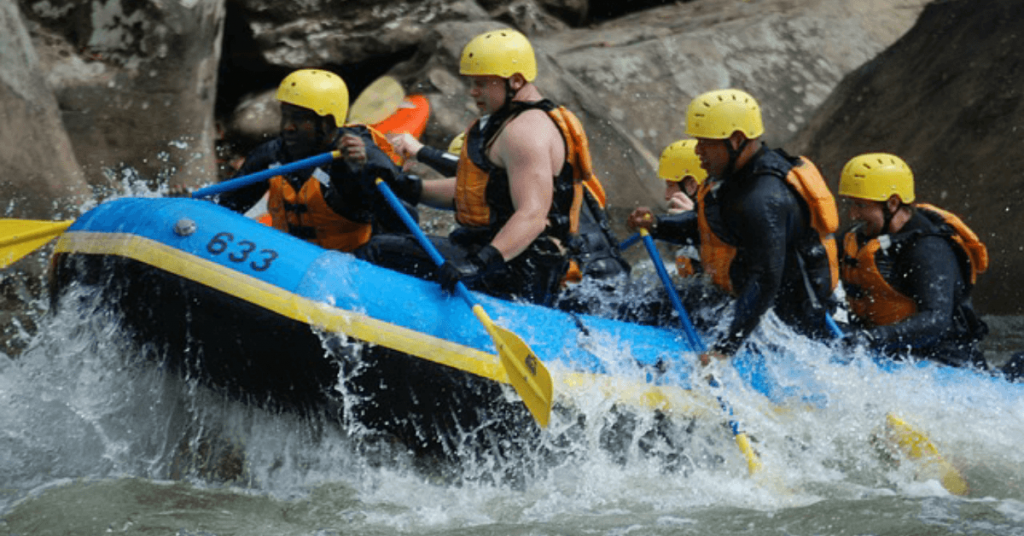 What to Wear
Always dress for the water rather than air temperature, since you'll get wet. In the summer months, a bathing suit and secure, lightweight shoes will be fine. Wetsuits aren't essential, but most venues will provide or rent them. Because of the reflection from the water, sunscreen is a must.
What Not to Bring into the Raft
Jewellery or watches, wallet or purse, car keys, mobile phone or a camera unless it is waterproof. Even if your camera is waterproof, you may lose it overboard. A Go Pro camera is the exception, but you must have a helmet on which it can be securely attached or check with the operator as they may have a suitable helmet you can use. It makes sense to leave your valuables at home then you know they are safe.
I've Never Done Anything Like this Before
The only prerequisites are that you are able to swim and are physically fit. Providing you are prepared to follow the guide's instructions to the letter and observe and adhere to the safety briefing, then it's all good
Can Anyone Take Part?
Providing you meet the physical and weight restrictions and are able to swim, then you're fine. Participation by pregnant women is not recommended, however.
What Do I Need To Bring With Me?
You should bring swimwear and a towel. If you own a wetsuit and it is suitable for rafting (i.e. long-legged) then bring that along too if you prefer to use your own suit. Also bring a warm outfit for after your session as you may feel cold.
Geronigo® – A World of Activities in Your Pocket
Download the Geronigo® App onto your phone to ensure you have every adventure ready to hand anytime you want to liven up your life – because life and your phone should be full of adventure.
By CJ