Before you launch into organising a hen party for your bride, it's best to check what the bride would really like. She may be a real girly girl, but secretly would go crazy for a more adventurous hen weekend and of course the reverse is true. Your ever so sporty hen may love the idea of a girly weekend with all the trimmings. So as the maid of honour or her number one bridesmaid, get that right first.
Active hen party weekends
There are 1000s of venues up and down the country that run action-packed activities for hen parties every weekend. Activities vary from paintballing, white water rafting, high rope courses to escape rooms and segway trails. There are roughly 98 different action activities to choose from in the UK and Ireland and the quickest way to match up your chosen location with the choices is to download the Geronigo app and let the company with the biggest activity network do all the hard yards for you.
Bubble football is hilarious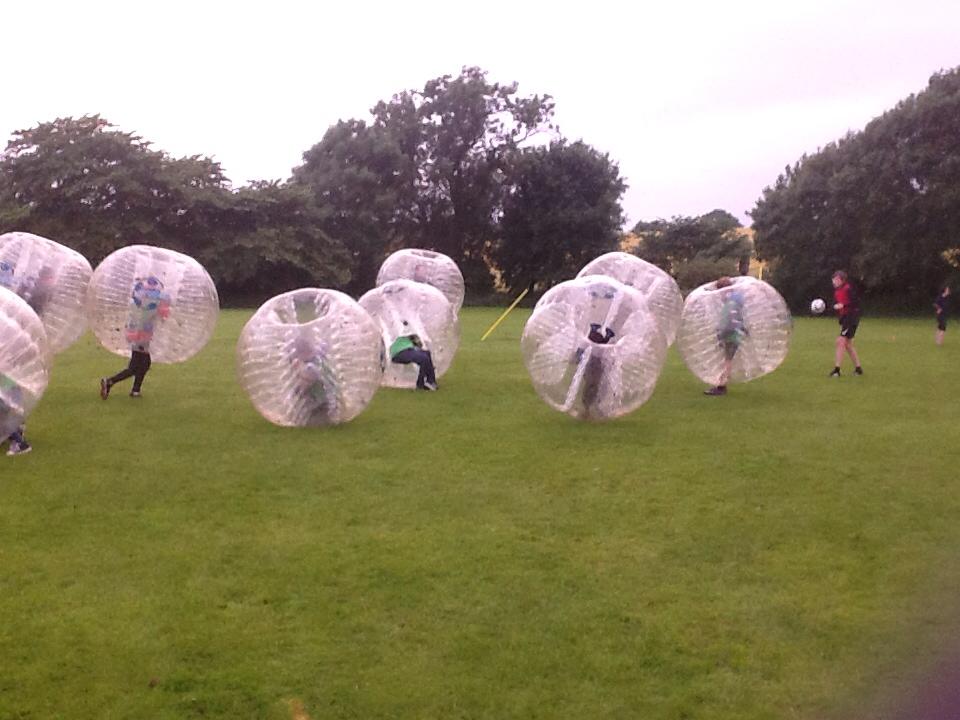 If your hen party girls are up for a real laugh, they'll love this activity. Available at multiple venues, this variation of the beautiful game is not one you'll recognise from the TV. Basically you all wear a huge zorb ball and then try and play a game of footy. Yes, you'll crash into each other, yes you'll fall over and yes, you'll laugh until it hurts. Very popular for stag parties why don't you find out why the boys like it so much.
Me Tarzan, you Jane
Accept that Tarzan is on his own stag weekend and you are all Janes when it comes to swinging through the trees on a high rope course. There are around 50 high rope venues up and down the country for you to choose from and all welcome hen parties every weekend. Once you're all strapped into your harnesses, up you go spending around two hours 40ft up above ground swinging, zipping, climbing and generally clambering around on obstacle courses set in the trees. High rope experiences vary, so check out your chosen location.
Shoot a few clays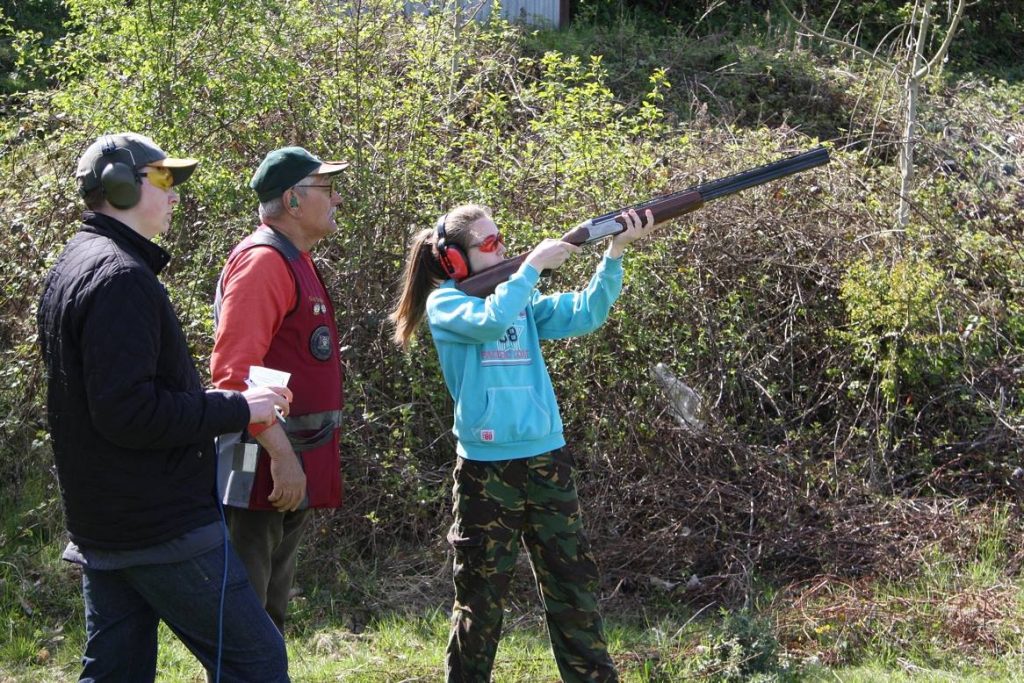 Clay pigeon shooting is way up there when it comes to popularity for a stag weekend, so why miss out girls? Smashing a clay as it whizzes through the air with a shotgun is immensely satisfying and every one of the 100s of clay target venues will ensure you hit these flying targets soon after you get out on the shooting range. You can shoot a few clays or go for a whole morning, which includes coffee bacon sandwiches on arrival a full morning clay shooting and a final shoot out to establish who is top gun.
Not so much an action activity, but one that will tax your minds and have your adrenaline levels going through the roof. Your hen group will be led into various rooms where your progress and eventual escape will be determined by your groups ability to solve the puzzles and riddles and follow clues that will lead you to victory. Themes are many and include spooky houses, zombie chases, wizard's lairs, prison escapes and many more. You'll need to make sure you invite your smarter friends for this one.
Paintballing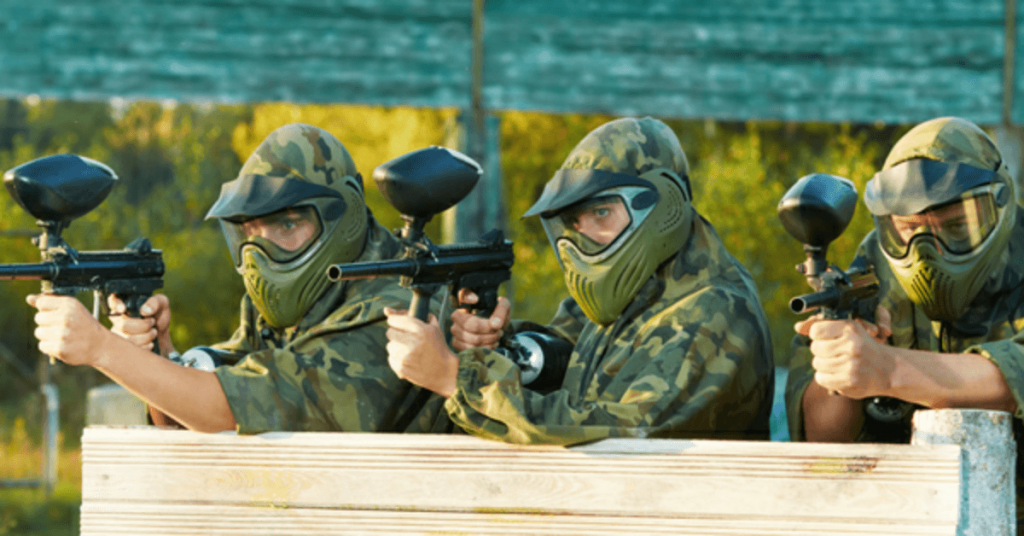 Not unusual for a stag party to include this on their weekend, but not a common choice for a hen party. So if your bride is an action girl, this one is for her. Paintball sites can be found near every major town in the UK and Ireland and you can choose from outdoor sites or indoor venues. Paintball site operators offer special packages for hen and stag parties to ensure the man or woman of the moment get special treatment. This comes in the form of a game called a hen or stag hunt, which as the names suggests is a hunt for the hen or stag who are sent off before the pack to try and get back to base before you catch them. Take a special outfit for your bride so she is nice and visible when the hunt is on.
Boozy hen weekends
The majority of hen parties want to include a night out on the town during their weekend together, either at a pub, wine bar or nightclub. Again, Geronigo can help you with the best drinking establishments, restaurants and a lot more besides. They organise 1000s of stag and hen weekends every year and have everything right there on their app so you have a perfect hen do at your fingertips.
Pub Crawl
A boozy pub crawl visiting iconic pubs in UK cities is a fun way to spend a hen night, however, if your hen weekend is located in Dublin, you can't miss a musical pub crawl. For 2½ hours, you'll discover Dublin's traditional pubs and lilting Irish music. These tours are led by at least two professional musicians, who during their renditions of the most famous Irish songs give an ongoing commentary on the importance of these songs in traditional Irish culture. You'll walk from pub to pub down cobbled streets visiting some of the most famous Dublin pubs.
Gin and whisky tasting
Gin tasting with experts is a fun session of drink and learn and then drink some more. If like many people you didn't know that there are different types of gin, then this will be an eye-opener and if you go crazy it may well close your eyes for a few hours too. As you sample a wide range of this tipple, your palette will become fine-tuned to the subtleties of the different flavours. This hen party activity will definitely get everyone in the mood for a great night out.
Whisky tasting is almost a must if your hen party is in Scotland, but it's available countrywide. Enjoying a 'wee dram' as it's referred to in Scotland, is without doubt a long standing traditional tipple. The word Whisky comes from the old Gaelic, "uisge beatha" which translates as "water of life", which pretty well sums up its place in Scottish life. A hen party whisky tasting tour in any part of the country will give you the opportunity to taste some of the most iconic flavours of the amber nectar.
Winery tours and tastings
You don't immediately associate the UK or Ireland with wine production, but you'd be wrong. Wine is produced here and owners are successful enough to hold tours of their wineries to show you how they do it. If you choose this for your hen weekend, you'll spend a morning or afternoon finding out how award-winning wines are produced. Once you've marvelled at the science behind it all, you'll enjoy tasting the wine with some expert guidance. Depending on the tour you book, you will most likely top off this experience with brunch or an afternoon tea.
Creative hen weekend activities
Creating something special that you can keep and treasure as a memory of your weekend with the girls, is a nice addition to any hen party weekend. There are many activities to choose from and include pottery lessons, life drawing, make your own chocolate, a bake-off and a few more besides.
Pottery Experience
Try your hand at making your very own pot on the potter's wheel. Expert instructors will be on hand to help and ensure even the least artistic hen will be proud of her creation. Off the wheel, you can paint your pots using a range of coloured slips to really add life and texture to you pot. Your masterpieces will then be fired and glazed changing your clay creations into usable ceramic keepsakes. An ideal activity for a mixed age hen group and will definitely appeal to the creative bride to be.
Life drawing
An hilarious hen's party activity full of fun and drawing games with a nude model (you choose the gender), music and champagne! The session begins with your model introducing himself or herself over a few drinks so you can get to know each-other and get the party started. With all the materials provided, you'll then draw your model in a variety different poses using a range of fun and engaging props to bring more humour into the session. You'll then have an optional final pose with the bride-to-be or chosen guest. Artist berets and other dress-up gear also provided.
Chocolate making
Learn the art and craft of a professional Chocolatier during a chocolate making hen party. You'll learn to make chocolates like the professionals learning tricks of the trade and be taught how to make your very own delicious chocolates. As you taste you way through the session, you'll be shown how to make your finished chocolates look as good as the professionals. All participants leave with their own chocolates. Perfect for the chocoholic bride to be.
Wedding bunting
Why not create something that your bride to be can treasure for ever. As her favoured girlies, you can get together to create a beautiful string of bunting that will take pride of place at the wedding. You work with the supplier by telling them what the wedding theme or colour scheme is. They will then ensure that they select the right fabrics, trims, and haberdashery to perfectly co-ordinate. On the day you are shown a number of creative and decorative techniques to make personal bunting pennants. Everyone joins in making the triangles, which are then assembled into a string (or strings) of bunting for the big day. Write a message or spell out their names along the bunting so it really is unique to the happy couple and a lovely lasting keepsake of the hen do and wedding day.
Relaxation and chilling
Most women like the idea of relaxation whether that is in the form of a spa experience, a relaxing massage or a complete pamper weekend including hair and make-up. There are as many packages to meet this need as there are towns in the UK and Ireland.
Spa Experience
A spa experience can range from a couple of hours to a full weekend and will depend on your budget and preferences. There is the simple massage and spa combo, which is wonderful in itself and leaves you and the girls relaxed and ready for the rest of your hen weekend. You can step it up with the choice of a full day to include massages, treatments, spa and swimming. Then there is the full monty with a whole weekend of chillaxing during which your body will get a full working over, your treatments will bring a glow to your skin and you will be fed with healthy foods to give you an inner feeling of well-being. Available across the UK and Ireland.
A yoga retreat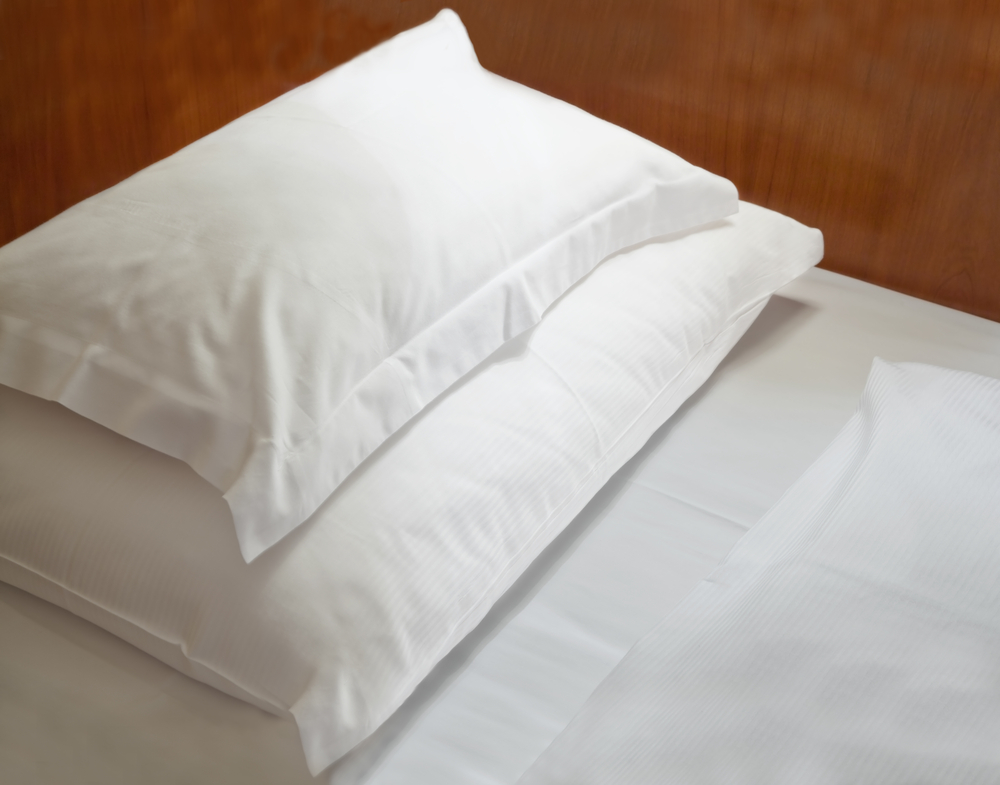 For beginners and regular yoga practitioners alike this yoga experience is a fun and meaningful way to bring friends together. It's and an alternative hen do activity that leaves you all feeling happy and healthy whatever your body type, fitness or experience. It is carefully curated to provide grounding meditation, uplifting yoga flows and certain dance elements that will have you all feeling like you are flying. A glitter ceremony is held to honour the bride and each-other with smiles, laughter and some beautiful heart opening moments and then the session is closed with deep relaxation. Duration is between 90mins or a full morning or afternoon.
Weepy movie night
Who doesn't like a weepy movie, even the ones you've seen so many times you know the words – every word! Invite the girls to a venue that can provide a big screen, some comfy chairs and snacks and drinks on demand. Have a few drinks and then settle in for your movie. Make sure you also provide boxes of tissues and have hugs on hand for any of the hen group that needs to be encircled with love as she weeps hysterically over the same scenes she cried through before. It's a simple idea, but works every time. Try it for your hen do.
By CJ