Let's take the road less well trodden and seek out these unusual and often novel ideas and see if they appeal to you as the stag party organiser as fitting for the groom's last day of freedom. Pull it off and you're likely to be applauded for organising the most unusual stag party activity that will be remembered long after the event itself.
Axe throwing a country pursuit adapted for fun
One of the most unusual ideas for a stag party is axe throwing. Evolved from a bit of fun when country folk got bored chopping wood, this activity involves hitting specially made targets complete with a bulls eye. Your stag event will include elimination rounds of hitting set targets and then a final showdown for top thrower. So, limber-up you throwing arm and imagine yourself as Khal Drogo, Gimli or The Huntsman as you wield that axe. Will you be the top axe man?
Travelling back in time for the last day of freedom.
Medieval horseback jousting is right up there on the unusual list maybe it's because you need a certain level of horse riding skill to take part. But, if that applies to your stag party, then throw down the gauntlet to your mates (sorry, knights) and book this great activity. You'll be taught the basic jousting skills needed to strike the dreaded "Quintaine" (man shaped target that spins around on impact) and authentic mounted games such as collecting rings off the tilt (fence) with a lance and then finish with a 'pig' sticking competition.
Escape rooms, the latest trend in unusual stag party ideas.
The fast emerging trend of escape games for stag parties means that this activity won't stay on this list for long so check it out before your quest for the unusual becomes commonplace. Each escape game is different, as are the venues where they're located. Rooms are themed and range from horror experiences to crime scenes. These and other unusual settings are the backdrops for a variety of challenges and investigations! In each of the rooms you will all have to work together to solve the riddles and clues in order to escape. Is your stag team up to the challenge? Will the stag escape in time for his wedding day?
Fancy being Tarzan for the day on a high ropes adventure?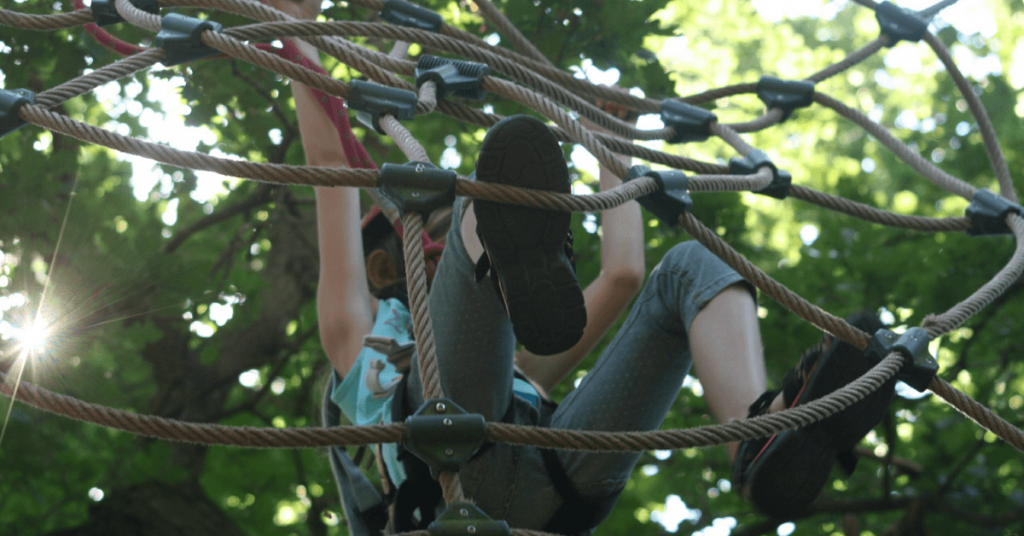 High rope's courses are numerous as the are varied in the challenges they offer. Often set in the trees and occasionally completely custom made, the choice of this option, will see you group taking on obstacles vertically and horizontally as they make their way through the network of wood, ropes and cables that make up the courses. You'll encounter swaying gangways, high-level canopy crossings, tricky rope ladders, fast zip-wires, death-defying trapeze stunts and jungle vines grabs. So, if your groom likes the idea of his last day of freedom beingTarzan for the day, this one's for you.
It takes skill to master a segway
A segway trek is next up on our unusual stag party ideas list. Take your group off the beaten track on a segway safari. Once they've mastered the basics on easy surfaces it's onto the custom-built, off-road tracks, woodland and countryside for unique experience that usually lasts for over an hour. Capable of up to 12.5 mph so, while that would be slow in a car, it's pretty speedy on two wheels.
The stag may feel invincible, but can he conquer water walking?
We've been on horseback, in rooms and up in the trees, not to mention balancing on two wheels so how about this unusual stag party idea that will have your stag group walking on water. That's right water walking is a thing. Basically it's walking inside a huge plastic zorb like some crazy hamster, which has been placed on water; this can be a swimming pool, lake or pond. As you walk the zorb rolls and moves across the water's surface. So basically zorbing, but instead of rolling down hill you roll on water. Expect to fall over, crash into other zorbs and generally have a hilarious time.
Unusual motorised stag party ideas
If your stag is a petrol head, you have a huge choice of stag activities. The most unusual for a stag party start with this list – monster truck driving, dumper truck driving, segway treks, power turn buggies, rally driving, high performance car experiences, 4×4 off-road driving, off-road dirt bikes, motor-cross, but there are more.
Last day of freedom – so why not go crazy
A vehicle that looks like a cross between a drag racer and a shopping trolley has got to be a bit of a joke, hasn't it? Well, your stag group mates will be laughing quite a bit when they try a powerturn buggy as its two drive wheels are powered at different speeds (by two engines). Both drivers have to work together to steer using only two throttle columns. Get it wrong and mayhem ensues. There is no steering wheel, or in fact, pedals providing a whole new driving experience. Courses are usually designed with multiple twists and turns to add to the inevitable adrenaline rush. Apply too much throttle and the vehicle will spin out of control, which is all part of the fun.
It's A Monster Idea for Stag Party
Monster truck driving is an opportunity to legally drive some of the biggest vehicles in the world over the top of smaller cars and trucks and no one will call the police. Behind the wheel of a full sized American-spec monster truck your group will experience the feeling of raw power as the 7.5 litre engine roars into life. So high off the ground that you'll need a stepladder to get into the cab. Hilarity all-round as you attempt to reverse into a coned area, drive around a designated course and then deliberately aim this monster to climb over the top of a couple of cars!
WW2 Tank Driving Anyone?
After watching them power through almost anything on the movies, I'm sure you'll agree that tanks are the ultimate go anywhere they like machines and you have the chance to drive them. It's an unusual choice and it may just tick all the group's boxes if they fancy the idea of controlling a real WW2 tank that would be more at home on real battle field. Your group will be let loose on some pretty challenging terrain with each of you being given the chance to drive this unstoppable war machine as it churns its way over every conceivable obstacle.
Seriously, dumper truck racing?
Okay, so when you became best man and got the job of organising the last day of freedom for the groom, you didn't even give dumper truck racing headspace. But, it's so out of the ordinary it's worthy of inclusion on our list of unusual ideas for a stag party. The dumper truck is a hefty four-wheeled-drive vehicle that is usually employed to move earth, sand and rubble, but this sturdy, go anywhere vehicle is surprisingly agile and speedy, which your stag group will realise as they race their dumper around the course and across the finish line. The fastest drivers then go head-to-head in the final and one of your group will be heralded as the fastest stag on four dumper wheels.
This is by no means a definitive list of unusual activities for stag groups, but it gives you some ideas to kick around. You could also look at skydiving, bungee jumping, canyoning, white water rafting, zip lining, stand-up paddle boarding (SUP), rock climbing, indoor sky diving, horseback trekking, off-road biking or an air rifle challenge. It's a pretty extensive list that could go on and on.
Want to know how easy it is to book unusual ideas for a stag party?
Download the Geronigo App and get instant access to the biggest action and activity network in the UK and Ireland, you get free access to an online stag organiser that cuts the organisation of your stag party to a fraction of the time. It saves you the headache of searching the Internet for all the different elements for your stag weekend as you can organise and book everything you need through your dedicated page; this includes every activity and adventure, accommodation and even restaurants. Then there is the participant invitations, sign-up and payment facility, which means no more begging for money from wallet-shy mates. You also know that if the activity operator is listed on the Geronigo App or website, they have been vetted and are fully insured. Truly the stag party organiser's best mate.